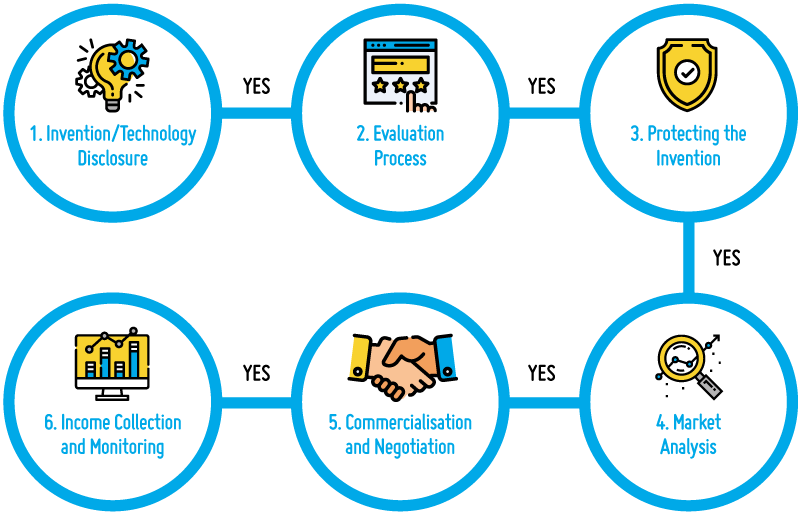 1) INVENTION DISCLOSURE
Notify U.Porto Innovation of the intent to protect an idea or technology. The Invention Disclosure form is a document that allows U.Porto Innovation to gather a preliminary understanding of the invention, its stage of development and market potential by addressing the following questions:
Is the technology new (novelty principle)?
Was there an inventive step?
Is it possible to (re)produce the technology industrially?  
2) EVALUATION PROCESS 
Provides a basis for justifying the decision to proceed or not with legally protecting the invention. At this stage, a meeting with the inventors is scheduled in order to clarify questions about the patentability of the invention. At the same time, a preliminary analysis of the market and of competing technologies is made to determine the commercial potential of the invention and whether or not the University should dedicate resources to it.
3) PROTECTING THE INVENTION
If the invention fulfils the patentability requirements and the market potential is high, U.Porto Innovation will ask the inventor to draft the patent text. Usually, the protection process starts with the filing of a national patent at the National Institute of Industrial Property (INPI). This is followed by a 12 month priority date after which the decision can be made about whether to extend the patent application to other countries or not.
4) AMARKET ANALYSIS
A market analysis performed in collaboration with the inventor is used to identify all possible applications of the technology in products or services. The advantages and disadvantages of each approach are characterised and their market potential is measured in order to outline a marketing strategy.
5) COMMERCIALISATION AND NEGOTIATION
Identification of possible technology licensees licensors based on factors such as: production capacity and distribution channels; compatibility with existing products /services; ability to ensure the product is brought to market. The negotiation is made to safeguard the interests of the University and other entities, by sharing the expected risks and benefits
6) INCOME COLLECTION AND MONITORING
Management of the patent maintenance process and the collection and distribution of benefits derived from its exploitation, in accordance with Article 9 of the Intellectual Property Regulation of U.Porto (RPIUP).
To stimulate the increase in patents resulting from U.Porto's R&D activities, the University establishes itself as the owner of the inventions generated by its teaching staff, researchers and employees or agents (Article 1, no. 2 and Article 2, no. 1 of RPIUP). Nevertheless, the University offers researchers 60% of the net financial benefits obtained from the economic exploitation of their inventions, at no cost (Article 9 of RPIUP).