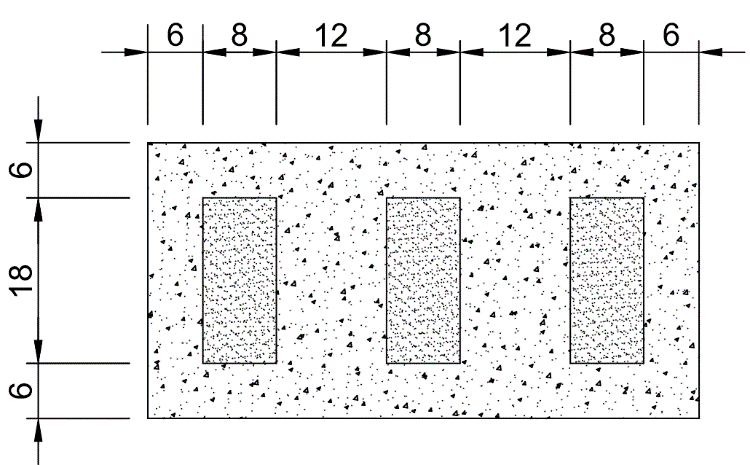 Abstract:
The invention herein disclosed relates to a hollow block with a parallelepiped shape, forming a formwork element for the construction of self-supporting exterior walls and other structures for civil engineering works.
Background:
Environmental and economic concerns, interconnected by the concern of saving energy and the use of thermaly efficient materials, have led to a transition to thermal concrete and efficient buildings. Accordingly, the concrete market has grown simultaneously with real estate construction. The same applies to hollow concrete blocks, ready-mixed concrete and precast solutions. Concerning ready-mixed concrete, there is a growing concern with its conservation and transport. In addition to action in the portuguese market, there are export possibilities. There is an upwards trend in the poruguese market in the construction areas, which started in 2017, especially in the real estate construction section, the most related to the present invention. Therefore, there is a need for low environmental impact buildings that can present economical solutions for the growing real estate market.
Benefits:
This invention presents two mains aspects in relation to its benefits. The first is its elliptical and cylindrical connectors that allow for easier interior filling of the wall, which makes the manufacturing process easier as the inner corners / edges of the block are reduced. The second is due to the connectors not being at the ends of the blocks, causing the filling/concreting of the interior of the wall to always make a 'cut' / 'break' between the block material and the fill material; therefore there is no straight line of block material between the inside and the outside, which means it is practically impossible to have a fissure in the block. 
Potential comercial use/applications:
In the current market there is a growing concern for thermally efficient buildings fuelled by environmental issues and the need for economically profitable solutions. The invention presented here allows a thermal solution using only concrete, without mortar and external insulation. As the real estate construction market is likely to grow in the coming years, as are the markets for the production of concrete and prefabricated block solutions, there is a clear need for inventions for this type of market. Thermal insulation in masonry constructions does not require mortar to solidify the blocks and therefore avoids thermal bridges. At the same time, it is a cheaper construction technique and easier to apply. It does not require formwork, mortar and application of external insulation.