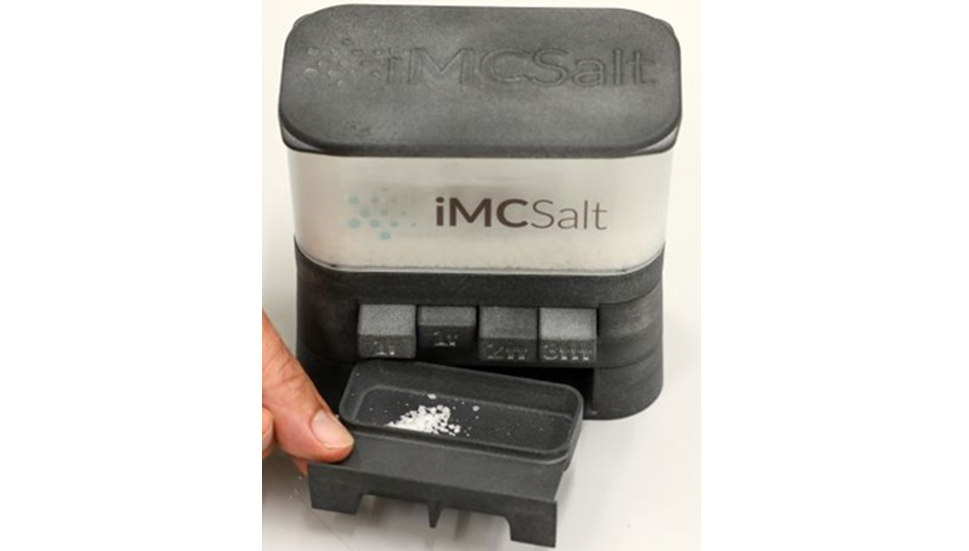 Abstract:
The present invention relates to a salt dosing device that allows a stringent salt uptake monitoring during the cooking process. The precise dosage of salt is dispensed through user interaction after selecting the number of individuals (adults or children) to whom the meal is being prepared to. The apparatus can be up-scaled to multiple sizes, ranging from subgram to sub-kilogram dosages, mimicking both individual and large group needs while keeping accurate measurements of the selected amounts.
Background:
Excess of salt intake is related to high blood pressure and cardio and neurovascular diseases occurrence. The World Health Organization has recognized and adopted salt reduction as a priority action to combat chronic diseases. A portable, rapid and user-friendly equipment that allows monitoring accurately the intake of salt answers a significant demand of consumers and targets public health concerns.
Benefits:
This invention goes beyond conventional devices used in kitchens, such as salt grinders and storage systems by delivering the accurate dosages calculated according to nutritional recommendations.
The utilization of this dosing device allows prevention and mitigation of health risks associated with chronic diseases that are caused by regular excessive sodium consumption. In this way, described invention promotes long term positive impacts on public health by re-educating the individuals and contributes to a cost reduction related to the treatment of health problems caused by frequent high uptakes from meals that lack salt control.
The benefits in terms of quality of life directly linked to lower morbidity and more precise control and mitigation of health related issues prove the invention´s utility as outstanding benefits.
Potential comercial use/applications:
This salt dosing device allows to accurately dose and control the amount of salt added in food preparation. Therefore, the device can be applied to monitor and control individual salt intake at a household level (with particular interest to clinical control of salt intake and food education programs) as well as in private and public services where meals are prepared regularly (such as canteens, elderly homes, hospitals and restaurants). Commercial interest is expected from retail groups.