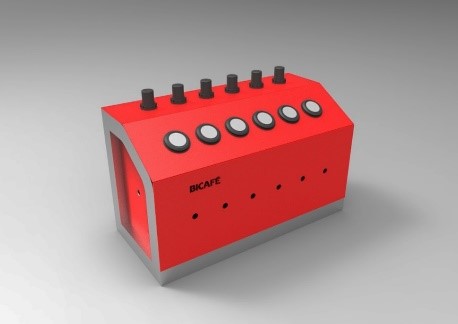 Abstract:
The present invention applies and monitors uniform force inside the product package and the bonded film by means of a pressure application.  The apparatus includes multiple stations for testing several product packages simultaneously and for registering the testing data for each test sample individually. This equipment is very simple to manufacture and to use, requiring minimal preparation of the product packages. The equipment is flexible, being able to test different types of materials and product package configurations.
Background:
A critical point in many of product packages is the presence of a sealing film. This adhesively bonded film plays a critical role in the safe storage of food and beverages.  The test of the adhesion of sealing films is complex. Available tests are more suitable for structural connections or simpler geometries.  For bonded geometries and thin substrates used in product packages there is no suitable equipment available.
Benefits:
The apparatus enables to assess the quality of the adhesion between the film and the product package, and to detect the presence of defects in the materials or adhesives, which are otherwise impossible to control.  This machine gives highly reproducible results, with accurate measurement, and enables the comparison of product package quality.                             This invention allows a fast assessment of the quality of the adhesion and the identification of any problem at an early stage.
Potential comercial use/applications:
This invention is very useful for encapsulated food and beverage manufacturers, for instance, coffee capsule, tea capsule or yogurt package manufacturers.  The machine allows the evaluation of the adhesion of sealed films during the manufacturing. It can be linked to the production line and enables to adjust in situ the parameters of the production line.