Apply until March 30th!
European Health Catapult is a training programme and competition that boosts the development of top-notch European health start-ups through exposure to leading experts and international investors. The start-ups will be involved in the EIT Health network of world leading medtech, biotech, pharma and IT companies and world-class research organizations in health care as well as the EIT Health Investors Network that unites international investors (VCs, Corporate VCs, Business Angel, and Crowd Investors). The programme is organized by EIT Health with the support of the Health Axis Europe.
Who should apply?
The European Health Catapult is open for micro and small enterprises (< 50 employees), spin-offs and start-ups (already incorporated) from all over the EIT Health community that:
Are active in the fields of Medtech, Biotech and Digital Health;
Are already incorporated and operating in an EU Country;
Have innovative business concepts;
Are looking for seed or series A funding, at least €500k euros;
Self-valuation of at least 1Mio EUR;
Drug development projects are eligible;
Programme
Interested companies apply to participate at the regional level. The seven regional competitions will be organised based on the EIT Health regional structure. Start-up companies may only apply to one region. Companies are advised to apply to the regional office with which they are most likely to associate. For instance, companies should self-identify with this region, have their company registered in this region, or have a second office in this region. Please be aware that attendance to local events in person may be required. The competition passes through three stages:
In total, 42 teams (14 per category) will be nominated from seven CLCs. These nominees will be invited to a compact training programme designed to prepare the teams and a selection day with a competition in each category. Benefits include reviewing of their business plan, pitch training, and exposure to experts and investors.
Half of these semi-finalists – a total of 21 teams (seven per category) – will be chosen at the training and selection days, and will be invited to pitch at the finals during the EIT Health Summit. Travel costs will be covered.
At the EIT Health Summit, the "best of the best" business plans in MedTech, BioTech and Digital Health will be selected by a panel of experts. The top three finalists in these categories will receive an award based on their placing. The maximum amount of all prizes awarded will be €200 000.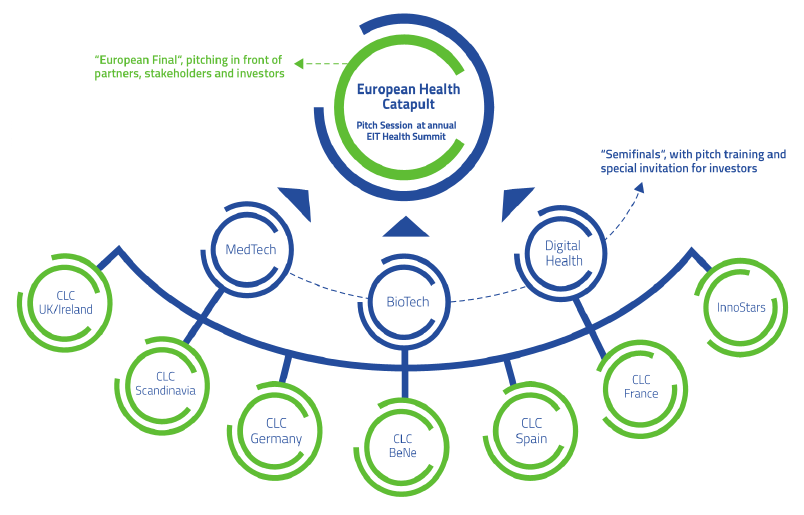 More information about this event can be found in the following link
Applications should be submitted via the EIT Health application platform, hosted by Optimy. Apply here
Application deadline: 30 March 2020
Powered by: