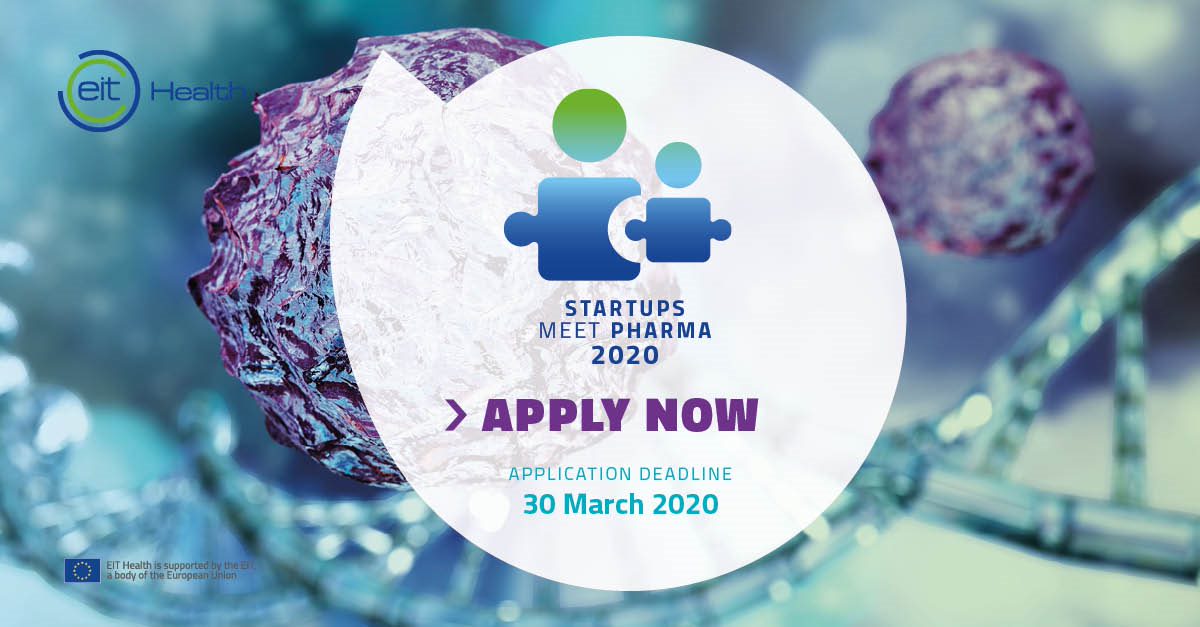 The 2020 EIT Health Start-ups Meet Pharma is a challenge-based programme connecting startups with developing innovative solutions for chronic care "beyond the pill" with key pharma partners in Europe. The programme invites start-ups developing digital solutions, which impact both the Pharma industry and patients, to tackle set challenges in collaboration with top pharma partners.
In 2020, five challenges have been released in collaboration with Amgen, Bayer, Beiersdorf and Boehringer Ingelheim:
Amgen - Encourage continuity in treatment strategy and optimization for post-myocardial infarction patients
Amgen - Choosing the right treatment for Multiple Myeloma patients
Bayer - Disruptive gene therapies, cell therapies and delivery technologies for different therapeutic areas
Beiersdorf - Improving the condition of diabetic skin
Boehringer Ingelheim  - Portable interstitial lung disease diagnostic tool
Who should apply?
The programme targets start-ups with already functioning product/prototype that already entered the market/are about to enter the market. Selection of companies is based on the quality of the business idea, their fit for the selected challenge and the team's motivation and level of commitment. Please note that only incorporated companies may apply to the programme.
Requirements:
Ambition, drive and commitment to fulfil a dream and build a leading company around an innovative idea with a potentially scalable business model.
Attendance of at least two team members at all sessions and workshops for the duration of the programme.
Willingness to interview at least 100 stakeholders about a business idea.
Programme
The programme presents the following structure:
Module 1 (June 15-19, Heidelberg) : 5 days "Innovation & Entrepreneurship training". Startups will receive tailored workshops by pharma experts on the different tools and methods to successfully build their business.
Module 2 (29 June – 3 July in Heidelberg) : 5 days workshops by pharma partners involved in the program on how to collaborate with big players in the market.
Module 3 (September 2020) : Startups will visit selected pharma companies involved in the program to discuss collaboration opportunities.
Module 4 (November 2020 – date & location TBD) : Demo Day. Startups will pitch their achievements in front of Investors and EIT Health stakeholders.
If chosen for the 2020 EIT Health Start-ups Meet Pharma, you will receive training with a commercial value equivalent to approximately €15 000. Additionally, you will receive a financial grant to help support you in travel and other associated costs incurred during the programme of max €10 000. The funding is allocated by the programme and is intended to support two-to-three team members. Generally, Start-ups Meet Pharma accepts 10-to-15 teams within one programme.
More information about this event can be found in the following link
Applications should be submitted via the EIT Health application platform, hosted by Optimy. To apply, you will need to create an EIT Health Optimy account: eithealth.optimytool.com
Application deadline: 30 March 2020
Powered by: